Greenbank Boost for Young Racing Driver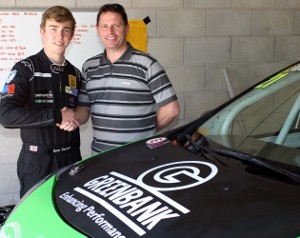 A teenage racing driver with ambitions to compete in the British Touring Car Championship has received a major boost after securing a sponsorship deal with the Greenbank Group.
Sam Randon, 19, is already recognised as a rising star in motorsport, securing a series of podium finishes in the Michelin Clio Cup series.
Greenbank Group, which designs and manufactures specialist products for the power generation, mineral and heavy industries, is the one of the latest firms to recognise his potential.
Charles Conroy, Managing Director, explains: "We've been impressed by Sam's performances at this level and his dedication to a sport that combines engineering excellence with individual talent.
"This reflects our own commitment to providing the highest levels of engineering expertise for our own clients and so this sponsorship agreement makes perfect sense for us."
As part of the deal, Greenbank will become Sam's headline sponsor and the Greenbank logo will become a prominent feature of Sam's Team SVR race car, which is run by ex-Touring car driver Danny Buxton and capable of 142mph from its 2.0 litre Clio engine.
An engineering apprentice at JCB, Ashbourne-based Sam says sponsorship from well-respected firms such as Greenbank is an essential ingredient for success in motorsport.
"I'm delighted at this latest offer of support, and as well as raising the company's profile we will be providing the company, its staff and customers with unique access to the world of competitive motorsport," Sam said.
Sam's father and manager, Neil, added: "This is further demonstration that our partnership approach to sponsorship is attractive to business both on and off the track."
Photo(Courtesy of AS Autosport Photography): Teenage racing driver Sam Randon with Greenbank Managing Director Charles Conroy before a race at Oulton Park