Greenbank Awarded RoSPSA Gold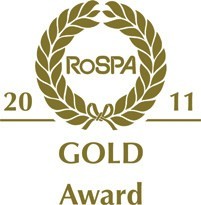 After 3 successive years at Silver level at the RoSPA awards, the Greenbank Group UK is pleased to announce it has been awarded the Gold Level achievement award for Occupational safety for 2011.
The achievement sector is for businesses who wish to demonstrate their commitment to safety across a wide range of occupational health and safety issues and represents a significant effort by all at Greenbank.
The award will be collected at the Birmingham Metropole hotel at a date in May by the Greenbank Group QHSE Manager, Wayne Darwin.
Charles Conroy stated; "This award highlights the underlying respect everyone at Greenbank has for health and safety in the workplace. Health and safety for oneself and one's colleague has become part of our daily culture at Greenbank and as such the award is a great credit to all our employees. Particular credit should be given to Wayne Darwin who has helped raised health and safety at work to another level. Well done Wayne."