Acclaimed basalt tiles in the spotlight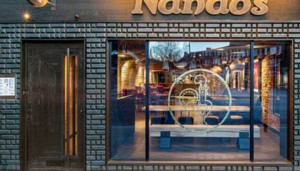 The Greenbank Group has again joined forces with the Ethical Stone Company to showcase the unique properties of volcanic basalt tiles that are in the running for a high-profile award.
Visitors to the Surface Design Show at the London Design Centre this week can view a selection of Greenbank's Volceram tile range at the Ethical Stone showroom in the Stone Library, located close to the entrance of the show.
Forged in the heart of volcanoes, the basalt tiles have been used for a wide range of commercial and industrial applications, including the distinctive façade of the Twickenham branch of a leading restaurant franchise.
The architects responsible for the striking frontage, STAC Architecture, have been shortlisted for the Retail Exterior Surface of the Year'Award at the Surface Design Show.
Ray Moorehead, Sales and Marketing Director at Greenbank, explained: "Our distinctive basalt tiles have been widely used to floor many upmarket restaurants, bars and micro-breweries but this time they have been mounted on the front of a building.
"The results are fantastic and the project has rightly been recognised in the awards.
"Once again we've joined forces with Simon Goude and his team at The Ethical Stone Company to welcome visitors to the Stone Library during this year's show so they can see for themselves the practical and aesthetic benefits of basalt."
As well as being incredibly tough, basalt is also non-porous, which makes it easy to clean and unwanted spillages or other surface liquids can easily be drained away, making it ideal for both commercial and industrial environments.
An added bonus comes from the dramatic appearance of the tiles, which can be used to eye-catching effect by architects and specifiers looking for a unique, contemporary look.
Caption:
Volceram tiles on the frontage of the restaurant in Twickenham.