2013 Gold RoSPA Award for the Greenbank Group UK Ltd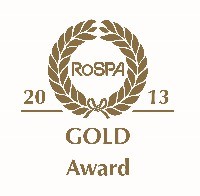 The Greenbank Group UK Ltd has, once again, had its approach to occupational safety and health recognised in an awards scheme run by the safety charity, the Royal Society for the Prevention of Accidents (RoSPA).
The Gold award in the RoSPA Occupational Health and Safety Awards 2013 will be presented in a ceremony at the Hilton Birmingham Metropole Hotel, at the National Exhibition Centre, on Tuesday May 14, 2013.
Dating back 57 years, the RoSPA Awards scheme is the largest and longest-running programme of its kind in the UK. It recognises commitment to accident and ill health prevention and is open to businesses and organisations of all types and sizes from across the UK and overseas. The scheme not only looks at accident records, but also entrants' overarching health and safety management systems, including practices such as leadership and workforce involvement.
David Rawlins, RoSPA's awards manager, said: "RoSPA firmly believes that organisations that demonstrate commitment to continuous improvement in accident and ill health prevention deserve recognition. Greenbank Group UK Ltd has shown that it is committed to striving for such continuous improvement and we are delighted to honour it through the presentation of an award."
John Wood, Operations Director for the Greenbank Group stated: "We are proud to retain the RoSPA gold award for the third successive year. We believe a culture of safe working practice runs throughout our business and the respect for the health and safety of others now runs at the highest levels I can recall. We have a policy of continual improvement and the training we provide helps underline our commitment to our employees, customers and suppliers alike"
<End>