Volceram tiles stand out at new restaurant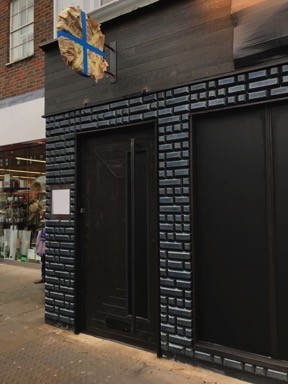 One of the country's fastest-growing restaurant chains has seen its new London outlet undergo a dramatic transformation with the help of a Derbyshire-based specialist engineering company.
Volceram tiles, made from volcanic basalt and supplied by the Greenbank Group, have been installed on the front of the new restaurant in King Street, Twickenham, ahead of its official opening this week
Forged in the heart of volcanoes, the tiles are widely used in Europe as flooring in upmarket bars and restaurants, as well as shops and offices and other areas demanding hardwearing as well as eye-catching surfaces.
According to Ray Moorehead, Sales and Marketing Director at Greenbank this is an exciting and attractive application of the tile.
"We were initially approached by a leading firm of London architects in the summer of 2017 to come up with a design for the new restaurant using our Volceram basalt tiles," he explained.
"After approval from the client, production began towards the end of the year and delivery and installation took place in December 2017. The resulting finish is an exclusive, frontage to the restaurant that's already receiving admiring comments from passers-by.
The design used at the new restaurant, which specialises in chicken dishes, has been named Sandy and is available from Greenbank by direct order or the company's partner The Ethical Stone Company, based at The Business Design Centre, London.
Ray continued: "Volceram tiles are available in a range of designs that can be used to produce individual and unique patterns for decorative or industrial use.
"Often, it's the industrial feel they offer that attracts construction designers and architects aiming for a contemporary urban look. But as each tile is produced with an individual finish they also provide that exclusive and desirable 'one off' result they're striving for.
"This particular design took quite a bit of development and hard work to get the finish our client sought but we got there and our fabulous production team and designers came up with an exclusive looking finish that they desire.
"It's a sign of the capability of the range that we could produce this new finish and it looks really fantastic in situ at the restaurant in London."
Potential customers have the chance to see the versatility of the Volceram range themselves next month at this years' Surface Design Show in London at the Business Design Centre. From February 6 – 8 Greenbank will again be showcasing the tiles at The Ethical Stone Company's showroom near the entrance to the main exhibition.
18 January 2018