MD Turns Our for Ex-Rams and Helps Raise £1810 for Local Boy With Cancer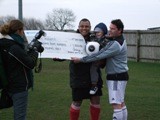 Greenbank's MD Charles Conroy, via the Company's connections as sponsors of Derby County Football Club, was invited by the ex-Rams legend Roger Davies to play in goal for them in a charity match to raise cash in aid of a local boy with a rare form of cancer.
Roger Davies, Paul Blades, Dick Pratley and Kevin Hector were among the ex-Rams side that turned out to play in freezing conditions on Sunday to raise money for four-year-old Lewis Mighty.
Lewis, from Mackworth, Derby, has been recently diagnosed with neuroblastoma – a cancer of the nerve cells that affects just 100 children each year. Since being diagnosed with cancer, Lewis has been undergoing intensive chemotherapy, which involves travelling to Nottingham every 10 days for a two-day course.
The match was between the ex-Rams vets Mickleover Sports Old Boys, whose team included Lewis's father, Perry who scored twice for the Old Boys side.
Charles came on in the second half for the last 25 minutes and conceded 2 goals in the defeat as the (much younger) Old Boys ended up 6-1 winners.
The game attracted over 100 spectators and well over £3000 was raised on the day for Lewis' cause on the day. This included £905 raised by Charles' colleagues, business associates, family and friends. This figure was matched pound for pound by the Company, so a cheque was presented on behalf of Greenbank Group UK for £1810 in total.
Charles said "I feel it was a great achievement to raise that amount of cash over a short space of a few days. Every single employee at Greenbank's site in Woodville pledged a fiver and the fantastic response and generous support I got from everyone, including family and friends was very touching indeed. I would like to thank everyone for their generous support"
08 January 2009