Contracts mark renewed partnership and further diversification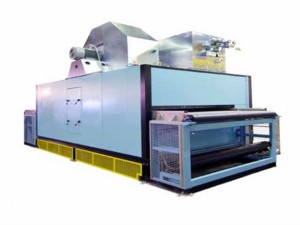 The Greenbank Group has strengthened its historic links with a former 'sister' company after securing a series of contracts.
The group's highly skilled production facilities will be manufacturing two industrial Tornado Dryers on behalf of Blackburn-based Greenbank Technology.
Both companies were once part of the same organisation but now operate as separate entities and Greenbank Group Managing Director, Charles Conroy, says he's delighted they've renewed a close partnership.
"We've already completed contracts for a similar dryer and an industrial Pin Oven for Greenbank Technology, and a further Pin Oven is currently under construction at our Woodville facility in Derbyshire. This latest contract bodes well for a long and successful partnership between the two businesses.
"One of the new dryers will be built at Woodville, with the other at our manufacturing plant in Creswell, Nottinghamshire, making the best use of our engineering assets and skill base."
The Pin Ovens and Tornado Dryers are specialist can-making equipment widely used in food and beverage packaging, a specialist sector that has been a key market for Greenbank Technology over many years.
For the Greenbank Group, the order marks further diversification for a company that has built its core business around the power and bulk-handling sector, more recently moving into the water industry with the acquisition of Burton-based Franklyn Yates Engineering.
The Group's commitment to engineering excellence has also seen it make significant inroads into the rail sector.
"These latest contracts further demonstrate our commitment to exploring new markets through strategic partnerships," Mr Conroy said.
"It is a privilege to be supporting our former sister company in the build of their state-of-the-art technologies and we are very proud to be helping Greenbank Technology's export growth with industry-leading products designed and built in Britain," he added.
17 November 2020