100th train cab rolls off Greenbank production line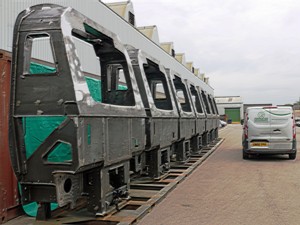 The 100th train cab has rolled off the production line at a Derbyshire-based engineering firm.
The Greenbank Group is on track to build a total of 170 cab structure assemblies for trains destined for a rail franchise in the south of England as part of a multi-million-pound supplier partnership agreement.
Alongside the main contract, the company also manufactured all the sub-assembly and final assembly jigs and fixtures involved in the cab assembly process.
Charles Conroy, Greenbank Managing Director, commented: "We've reached this important milestone ahead of schedule and less than 12 months after delivering the first cab.
"Such efficiency really highlights the company's ability to adapt quickly to meet the requirements of clients from a broad cross-section of industrial sectors and the flexibility of our highly skilled workforce."
Greenbank employs over 130 people at its facilities in Woodville and Creswell, near Worksop, and its subsidiary, Burton-based Franklyn Yates Engineering and its manufacturing and assembly plant in Connah's Quay, North Wales.
For more than 66 years, Greenbank has successfully delivered high-quality, bespoke engineering services to a number of industries, particularly power generation, but the firm has diversified significantly over the past decade.
As part of its expansion into new markets, the company has proved that its engineering and fabrication expertise can meet the stringent demands of the rail sector, a move supported by its investment in obtaining EN 15085 Manufacturers of Railway Vehicles and Components Certification Level 1.
"Our efforts to meet this globally recognised standard are clearly paying off, and we look forward to forging even closer links with the rail sector," Mr Conroy added.
09 December 2020